BEWI Universal Protectors
BEWI Universal Protectors
We have invented and a whole new way of solving time waste, HSEQ issues and shave significant time off the process of protecting threads and seal surface on pipes and X/O Joints. One protector will swallow any thread pattern in the various size columns of tubulars, and it will not take more than 4 seconds to mount or remove. This statement is valid both for manual handling and robotic handling.
Read the test report: KIWA API 5C Test Report
Corrosion test report: Corrosion Test: Visual Inspection
Corrosion test certificate: Corrosion Test: Certificate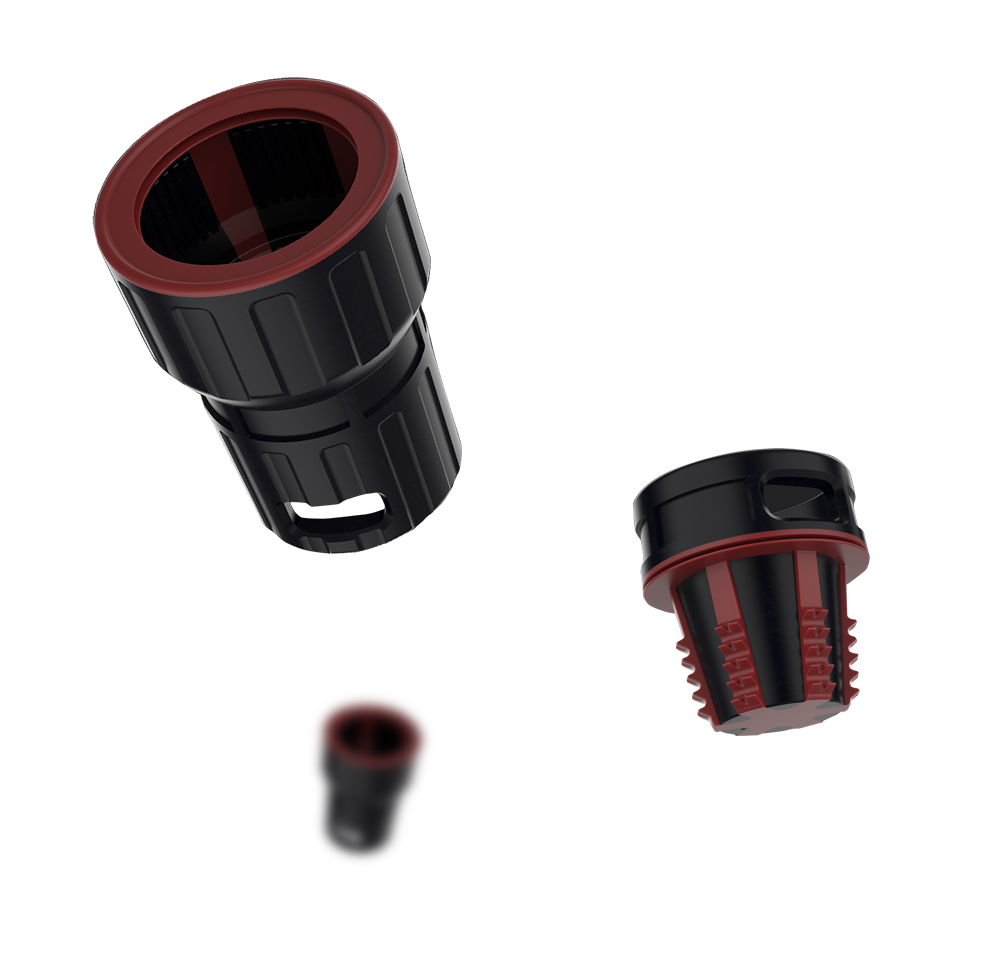 Robotic mount and removal of protectors in red zone (Drill Floor)
We have an EX Zone 2 / Zone 1 approved robotic arm with a gripper that will reduce human activity in the red zone on a drill deck. This solution is patent pending. The HSEQ improvement is as obvious as the time saving. Potential head count reduction is something we would like to discuss with you. The overall saving potential is quite impressive.
A smarter way to do things
We think you will be surprised on the effect when digitalization is introduced to a product like this
Smart protector with a brain:
We developed an EX Zone 2 / 1 smart chip (patent pending) that will monitor external influence on the pipe tubular, temperatures the tubular has seen and what kind of humidity you actually have – on the thread, from factory to down hole. We can tell you where it physically is located and whether inspection is required. An LED will provide a visual indication of the overall tubular thread status. If the light is green: Don't waste time on inspection
Imagine: 10.000 tubulars arriving on an offshore base… There might be 100 tubulars signalling need for manual inspection. Removal, inspection and remount of 200 protectors is a bit easier than a compulsory 20.000.
Having these digitalized smart protectors installed at the pipe manufacturer can provide a full journey history log and no hands involved from factory to down hole. You do the math….
P&A Operations
A Smart Protector ignoring the thread pattern, especially important when the thread pattern has expired and have become obsolete, mounted by a robot will provide a major logistics improvement onshore as well as offshore. The dimension of the tubular pulled out will provide the size column of the protector and, other than containing internal residue in the pipe, will protect the thread and seal surface as well as for a new pipe. We are looking forward to presenting this solution to you.
Time saving:
Time comes in two categories:
- Onshore time
- Offshore time
The latter is quite expensive, and the effect of saving time and reduce need for human activity, especially in high risk areas, is significant. A side effect, proven through pilot testing, is that time savings also can open for access to weather windows you might miss on the traditional way of doing things. Our newly developed Drilling Riser Protector Set is a great and proven example. We are talking serious savings as a bi effect of our solution
Sustainability:
The Bewi Protector will be used, reused and reused until reaching a status where we recycle the product – Inside the ESPS parameters of the offshore base. On top we are receiving ALL EP / EPS plastic returning to base from the rigs in Norwegian waters. This plastic is cleaned, grinded and processed in order to become new protectors and pallets in a circular model. Excess raw material will be used across our factory network to increase recycled plastic percentage content in our wide variety of products in the Bewi Group.
Next level design
Our design has elevated the properties of a protector to another level. Inside the hard shell there is a cushion working as a bumper to reduce the need for re-threading and re-phasing. Our internal tests show an indicative improvement of 100%. External testing under way.